It was way back in 1996 when Bill Gates coined the phrase, "content is king" to emphasize the importance of high-quality content published on websites to attract visitors. In 2013, the phrase was revisited in a quote from Jonathan Perelman of BuzzFeed when he revised the phrase to read, "Content is king, but distribution is queen and she wears the pants." We want to try to settle the debate of long vs short copy and examine which is ultimately better for your business.
The newer statement was also featured in an article written by Ryan Skinner entitled Great Content Is Not Enough as a follow up to Put Distribution at the Heart of Content Marketing. Both are excellent reads for marketers and a key takeaway reveals only 36% of today's marketers believe they're using content effectively.
Long copy is a tried and true direct marketing technique that's been proven countless times. The underlying psychology that made it work historically hasn't changed. It's as valid today as it was in the past. What's changed is the medium used to consume the content.
Revisiting Word Counts
Recently over 900 million blog posts were analyzed looking at factors like formatting, word counts, how headlines correlate with social media shares and obtaining backlinks. Eye-opening results revealed:
When it comes to the acquisition of backlinks, longer copy received over 77% more of these exterior hyperlinks compared to shorter posts.
Longer posts outperformed shorter articles, however, results diminished for presentations of over 2,000 words.
Lengthier headlines in the 14-17 word range generated nearly 77% more social shares compared to shorter titles.
These figures help marketers to better understand what content people will read, what type of copy works best and what may not be performing at its peak.
Long Copy or Short Copy?
Another statistic from the study shared headlines with a question mark get more than 23% more social media shares than those titles that don't end with a ponderance. While it appears audiences enjoy reading long copy, but is this really true in the majority of cases?
Not necessarily. For example, often big brands don't need long sales letters or lengthy posts to sell their products or services. For example, practically everyone knows what an iPad or iPhone is so many times marketers are able to write short copy to sell these popular handheld devices.
Length and Interest
Further statistics show how copy continues to grow in length over the years. Today's marketers are shifting towards longer, more in-depth blog posts: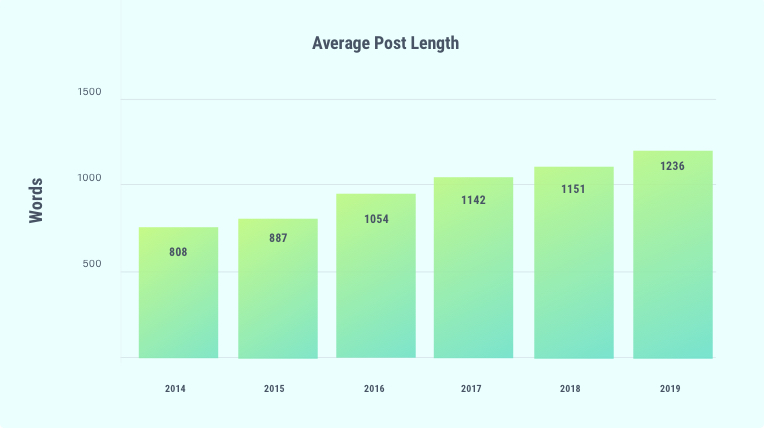 Long copy is a tried and true method of direct marketing. You may wonder why long copy is relied on by Direct Marketers. Many years ago, when I was new to the marketing world, I wondered about this too, so I asked a wise Executive Creative Director. He told me,
"Long copy, vs short copy, sells better because it provides an interested prospect with all the information they need to make their purchase decision. If they aren't interested, then they probably won't see the piece so it doesn't matter if the copy is long or short."
6 Tips for Better Content that Converts
Still another revelation from the study showed that list posts are more heavily shared with content containing lists getting an average of 218% more shares than "how-to" posts. Those with infographics had 203% more engagement while "what" or "why" posts received more than 25% more backlinks compared to "how-to" articles.
While long copy works, short copy is also successful in some cases since it's important to not only reach a targeted audience but also retain their attention. For example, users usually won't read landing pages with copy length that's excessive. They also almost never read pages and pages of legal mumbo jumbo about terms and conditions of use.
So in this light, here are six ways to ensure users who are reading long copy will get the most out of your content. When writing copy, long or short, keep these tips in mind:
1. Cover Only Necessary Content and Skip the Fluff
Effective website content is customer-centric and only delivers information valuable to consumers. Posts and articles with useless information will alienate audiences pushing readers to other platforms.
Other ways to cut down on fluff is found in this article "8 Weak Words You Need to Edit Out of Your Next Blog Post" by Neil Patel, a renown digital marketing expert. He recommends many terms that are turn-offs like "really" or "very" and "think" or "believe." The longer copy has its value but doesn't need unnecessary terms to reach higher word counts.
2. Longer Copy Answers Questions and Eliminates Objections
Think of your copy as a way to answer questions and eliminate objections before they arise prior to purchase. For example, if your product is perceived as being expensive, proving to customers it's worth the price may require longer instead of shorter copy.
Feel free to call out the competition in showing how your brand, product or service is superior. But speak of them only in broad terms and not by name, don't point fingers, highlight mistakes or make accusations. These types of antics are often seen as underhanded or childish and leave a sour taste in the mouths and minds of audiences.
However, sometimes less is more and fewer words are appropriate when considering instructions on shampoo bottles reading, "Lather. Rinse. Repeat." Over-explanatory content may come off as an attempt at dumbing down the audience.
Long copy is better utilized for more technical content when lengthier explanations are necessary. We'll go back to shampoo directions as an example. While those instructions for use are few, the ingredients contained in the product, benefits of use, information about the manufacturer and storage suggestions will be of a greater length.
3. Structure and Readability
Along with the use of images and videos, it's important to layout the post to keep readers engaged and on track. Just as we have done here, the most effective format should include:
A clear and concise introduction – write this like it's a short copy, use this section to tell them what you're covering and point to a CTA (Call to Action)
Use bold headers and lists – this will satisfy online readers who are "scanners"
Keep paragraphs short – white space is your friend
Write plain English – avoid technical jargon, purple prose and elaborate metaphors
Use images and/or videos – they should be compelling and complementary
A conclusion that hits on the main point(s) you covered – tell them what you told them
Readers should have a general idea of where the story is leading them and it will land them clearly on the CTA which should be a part of the conclusion.
4. Videos Make Marketing Messages More Concise
It has been said a picture was worth a thousand words and they are an important part of today's content. Today we can say that a video is worth a million words. While video's don't exactly settle the long vs short copy debate, there are times when a two-minute video will convey the same amount of information a two-hundred or even thousand-word essay might take to convey.
The message here is clear. What would you rather do? Read or write hundreds or thousands of words or watch a quick movie? Remember our days in elementary school and I'm sure you'll agree that the majority of students preferred movies over text.
5. Rev up the Video
While videos are awesome, they shouldn't replace the words. Describing the contents of the video is always an option. Allow the viewer to decide for themselves. While transcription may seem troublesome, there are online services like rev.com that will deliver this text quickly for a reasonable cost.
Once the video has been transcribed, the copy can be edited with an introduction, further insights and a conclusion added for higher word counts. The video along with the transcription will support SEO and deliver higher rankings.
6. Make Reading More Interesting and Entertaining
Here's where one of the most important parts of creating valuable, interesting content comes to light. The path to follow here is not to present material that sounds like a sales letter or pitch for purchase but rather is a valuable piece of content that offers value, gives helpful advice to solve problems or provide a solution to a dilemma.
Instead of coming off as an annoying salesperson rushing across a used car lot to pester a potential car purchaser, instead, your voice is received as being a helpful advisor or a trusted neighborhood friend offering important information. Also, using the structure advice given previously, the post will be more aesthetically pleasing and easier to read.
Conclusion – Long vs Short Copy: Which Should You Use?
As you can see, having tested long and short copy, both have their place on websites, blog posts, articles, a sales page, and other online content. Along with the use of videos, images, structure and proper construction, all of these will provide greater success for your internet communications.
Well, that's the long and short of it. The general rule of thumb will be to write content that covers the issue thoroughly and leaves the reader satisfied.
However, if you still have questions about long vs short copy, important use and distribution of high-quality content, please contact us today. Not to toot our own horn, but we're experts in the field and your success is our success.

Author: James Hipkin
CEO, Managing Director
James brings over 30 years of professional sales, marketing, and marketing consultation services to the table. Serving global brands along with small businesses, Hipkin leads a highly-skilled team of full-time developers, producers, and project managers who are committed to your success.
An excellent communicator and inventive problem-solver, his creative vision and bottom-line sensibility have proven successful at building productive, long-term partnerships with both employees and clients. 
Click here to book a meeting with James Hipkin