This may come as a surprise to many people, but according to recent statistics, only half of today's SMBs (small-medium-sized businesses) have a simple website in place. This is bad news for those SMBs who are lacking a professionally designed website since up to 80% of today's consumers research a business online before visiting them or making a purchase. For some business owners, they may be asking themselves, how much does a small business website cost? Often they have a long list of questions about this process including:
What is the actual cost to design, build and host a website?
How much can a business expect to pay in monthly or annual fees?
Where can they purchase a domain name?
What's the difference between a website designer and a web developer?
These are just a handful of queries facing many businesses today when it comes time to build or update an existing website. Let's take a look at these and more concerns many SMBs are facing when it comes to taking on this important endeavor.
How Much Will Costs Vary?
Unfortunately, like a number of different things businesses are budgeting for nowadays, there is no simple, concrete, up-front answer to this question. In this competitive marketplace, there are options available using free templates (but nothing is ever really free) and some could potentially pay $35K or more for a professionally designed and construction website. Then there's hosting, security and ongoing software maintenance that could add up to a hefty monthly fee.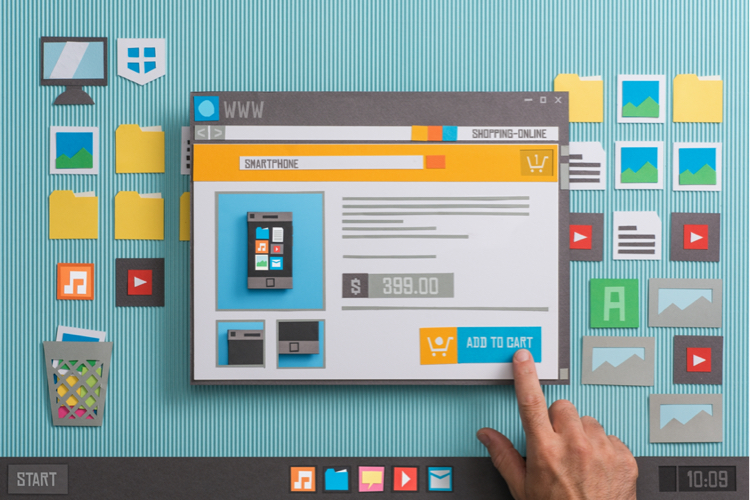 From the NFIB (National Federation of Independent Businesses), they breakdown the cost to build a small business website with a list of these four general price ranges for small businesses:
Under $1,000 – Typically these will have one person designing and developing with little custom design concepts involved, just a few pages with basic contact information and details about a business's products and services.
$1,000-$2,500 – Small business owners should expect more strategic insight with a better architecture in place and possibilities for better marketing options with a growing business or small online store.
$2,500-$5,000 – This is likely the sweet spot for the majority of small business websites. Here's where you'll get more comprehensive, thoughtful input on the design and functionality along with the development process.
$5,000-$15,000 – This price quote is mostly reserved for much larger websites of 100 pages or more. Obviously, there's a much larger time investment both from a design and development standpoint.
$15,000+ – This top price-scale embraces not only sites with hundreds of pages but also includes e-commerce capabilities. Other functions like an ongoing events calendar, directory or membership roster and other third-party integrations will require additional software leading to higher costs.
Website construction can be compared to a three-legged stool with design, development, and hosting all being a part of the package. Each has a cost, must be managed and impact the overall budget.
What's the Difference Between Design and Development?
In a nutshell, website design refers to the visual and aesthetic portion of the site and eventually leads to its usability and functionality. The majority of web designers create wireframes (also known as a page schematic or screen blueprint) to guide them in the process to deliver the best in UX (or user experience).
Web developers (often called programmers) use different programming languages to bring the design to life far beyond the simple drag and drop method associated with free sites. Advanced web developers who utilize a CMS like WordPress to streamline this process will make it easier and therefore cheaper to maintain and update the website.
What About a WordPress Website?
This is one of the most popular and useful platforms for building different types of websites using one of their WordPress themes. For basic construction and those looking for a DIY option, using one of their free themes is a choice some small businesses are making to save money on design costs.
However, these no-cost options don't include things like customized domain names and lack a more individual appearance. Sans the touch of a website designer, many of these sites have a "cookie-cutter" feel to them and often seem stale with some of their "stock" images, commonly-seen photographs and somewhat average layouts.
In addition, prebuilt themes can also be quite "heavy." They include lots of design flexibility and other functionality much of which isn't used but it still adds weight to the website. This can negatively affect page load speed, which impacts SEO (search engine optimization), user experience, and not in a good way.
Prebuilt themes can also be quite heavy. They include lots of design flexibility and other functionality, much of which isn't used but it still adds weight to the website. This can negatively affect page load speed, which impacts SEO rank, and not in a good way.
What About Hosting Costs and Other Hidden Fees?
Often small businesses overlook some of the hidden costs involved when researching how much does a small business website cost. There are ongoing hosting fees, security, regular software maintenance and site upkeep, SEO techniques to increase traffic, regular additions of fresh content and more to explore.
An SSL (Secure Sockets Layer) is an important part of this process as online trust concerns are at an all-time high heading into the next decade. The appearance of an SSL certificate on a website ensures visitors know your business has taken the time to ensure consumers you're committed to protecting them from potential internet threats.
Is SSL Really That Important?
SSL is also important to search engines since a missing or broken SSL will negatively affect a website's ranking according to cybersecurity experts. Google announced the SSL seal would become a part of its ranking system back in 2014, and at the time, many thought it wouldn't be much of an actual factor and more of a marketing claim.
However, it turns out that assumption was wrong according to Google's Gary Illyes, a Webmaster Trends analyst, this ranking signal, "affects enough queries measurably that I wouldn't ignore it."
Where To Get a Web Domain?
There are hundreds, perhaps thousands of vendors available online to purchase a personalized web domain name. The prices fluctuate almost as much as the different choices available but generally, they run at a rate of around $10 to $15 upfront and then a similar annual cost.
When hiring a professional web designer, many of them will take care of the acquisition of a domain name as part of the process. Some of the more popular choices and places to search to see if a name is available include Google Domains and GoDaddy. However, more popular also means more expensive and in some cases, you won't get what you pay for.
Are There Less Expensive Options?
As the name suggests, NameCheap (affiliate link) is an inexpensive alternative to some of the other big providers in the domain name game. They offer the majority of .com domains starting at only $8.88 and some more obscure extensions coming in at under a dollar along with:
A "bulk search" option that lets users search up to 50 domain names at once for those with a long list of ideas.
Checking for different prices for TLD (Top Level Domain) names
Managed WordPress hosting through Easy WP or forwarded to a professional provider
Is Content Still King?
The short answer to this question is, a resounding yes!! While this blast-from-past statement from legendary tech-genius Bill Gates dates back to the early nineties, it still rings true today.
Experts in the communication field expand on this message when they add, "Content is King, and Distribution is Queen!" Website construction isn't a isn't the beginning of a project, it's the start of an ongoing process towards success.
But what's really important is the relationship that's fostered between the business and its customers by providing valuable and easy-to-find content that's useful, or words to the effect.
How much does a small business website cost? A breakdown:
Let's look at a breakdown of potential expenses to get a better idea of what a typical website might cost on a regular basis. These rates are mostly dependent on size and complexity:
Domain name registration at around $10-$15 both upfront and annually
Hosting fees range wildly from $10 per month for small sites to $200 or more
Basic SSL certifications are often free or included with hosting plans although some businesses are paying hundreds annually for more security and additional features
A content delivery network $50-$250 or included with many upper-tier hosting plants
Maintenance charges of $400-$1,200 annually
For e-commerce sites, payment processing fees are often applicable and could range from zero to hundreds annually. A higher percentage of sales means a lower monthly charge in most cases. Upfront design and development fees often include:
Development tools and templates around $100-$200
Design charges including page layouts and graphic design from $400-$1,600
Development, coding, and scripting running $600-$2,000
So what's the bottom line? In a ballpark range, expect to pay between $5,000 to $15,000 initially and budgeting anywhere from $600 to $3,000 annually for maintenance and optimization.
In Conclusion
Mostly we've learned the cost for designing, building and hosting a website will vary a great deal according to the size and complexity of the project. We've also uncovered the difference between web designers and developers along with the possibilities on the WordPress platform. Hidden fees, the importance of an SSL certification, an inexpensive option for domain names, the inclusion of content, and cost breakdowns were all covered.
Remember, a website isn't a brochure or an advertisement. It's an important tool that will embrace marketing endeavors and allow more people to find your business in today's tech-drenched society. Hiring a pro is an excellent way to get more value and fewer headaches keeping all these tasks on one, less expensive tab.
When it comes to professional web design and development, you'll find everything you need under one roof right here. Most importantly, you won't pay through the roof for a superb site that will deliver the results you need from your website. Contact us today to discuss many different affordable options that won't bust your budget.

Author: James Hipkin
CEO, Managing Director
James brings over 30 years of professional sales, marketing, and marketing consultation services to the table. Serving global brands along with small businesses, Hipkin leads a highly-skilled team of full-time developers, producers, and project managers who are committed to your success.
An excellent communicator and inventive problem-solver, his creative vision and bottom-line sensibility have proven successful at building productive, long-term partnerships with both employees and clients. 
Click here to book a meeting with James Hipkin